Accounts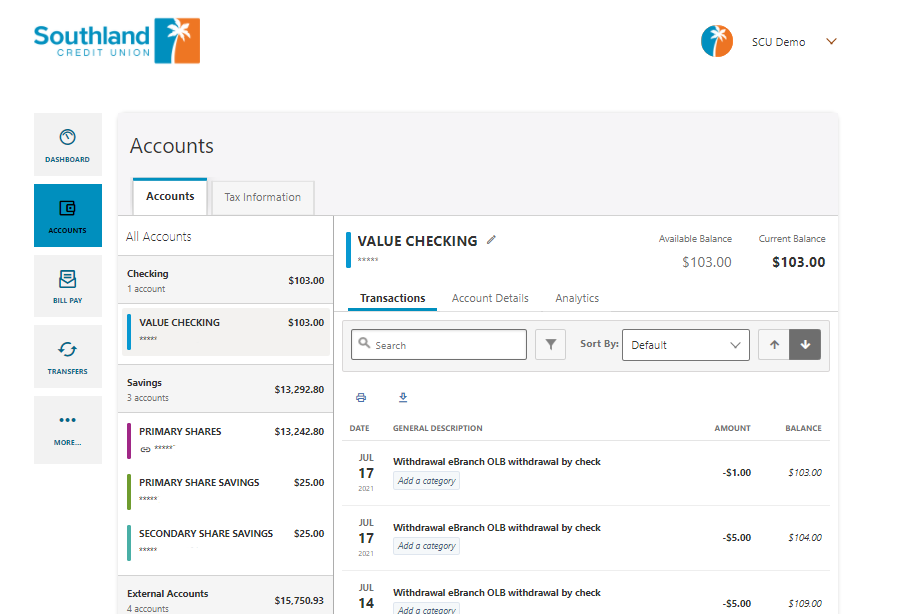 View all your accounts and transactions in the Accounts Widget. Select an account in the side panel to view its transactions and details. In the detailed view, you can select the pencil icon next to the account name to give it a nickname and assign a color. On the Transactions tab, you can view your recent transactions, search, filter, and sort.
Other things you can do in the Accounts Widget:
Click the print icon to print a transaction history.
Click the down arrow icon to download a transactions file for Quicken or Quickbooks.

Categorize your transactions by clicking Add a Category under each transaction, which will allow you to report on your spending in the Analytics tab and in the Budgets widget.
On the Account Details tab, you'll find information like the account open date and your fill 13-digit account number or "MICR" number.
The Analytics tab provides chart views of your balance history and spending.
The Tax Information tab will display total dividends earned on your interest-bearing share accounts for the current and previous year.
📱 Mobile App Experience: On the mobile app, the Accounts area provides a quick summary of all your Accounts. Tap any account to view your transactions. You can search your transactions by amount, description or date. Tap any transaction to view more detail. Tap the Account Details tab to view additional account information like your full 13-digit account number.
Transfers
Transfer funds between your accounts with ease by using the Transfers widget. Transfer money to and from your Southland accounts, transfer money to other Southland Members, or add an external transfer account to move money from another financial institution.
Click "Add an account to make a transfer" to add a new account to your transfer list.
To send money to another Southland Member:
Select Internal Account to send money to another Southland Member, enter their name and account information. An email will be sent to the Member notifying them of the connection.
To send money to or from another financial institution:
Select external account to send money to another financial institution. Enter your account information. Two small trial deposits will be sent to your external account within three days. Return to your Southland Digital Banking Dashboard to verify the trial deposits.
Within the Transfers widget, you can also review your upcoming scheduled transfers on the Scheduled tab and your previous transfers on the History tab.