Savings Goals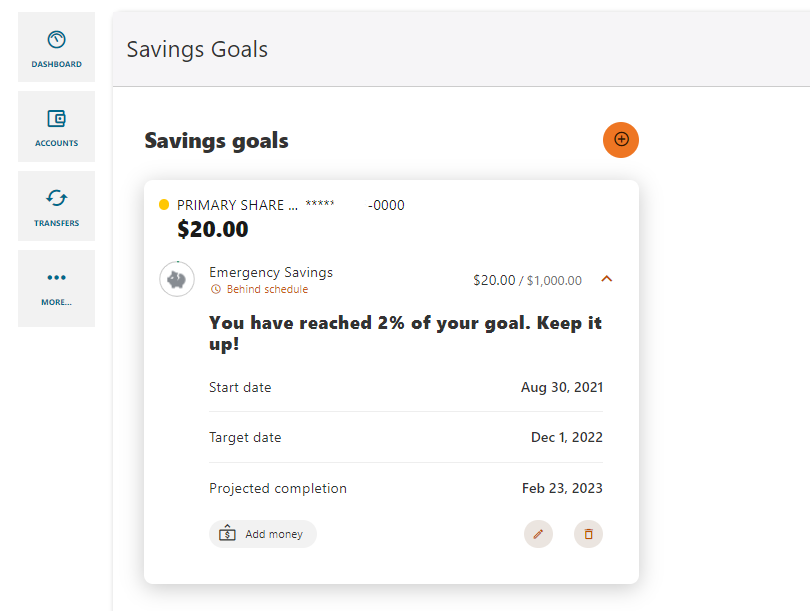 Create custom savings goals and track your progress in the Savings Goals widget. Pick a goal, set your amount, start date and target date. Add money to your goal directly from the Savings Goal widget. You can move money to your goal from another savings or checking account, or you can re-allocate money from a different goal.
📱 Mobile App Experience: On the mobile app, you can view your Savings Goals and create new goals. You can also add money to your goal from one of your Southland accounts.
Budgets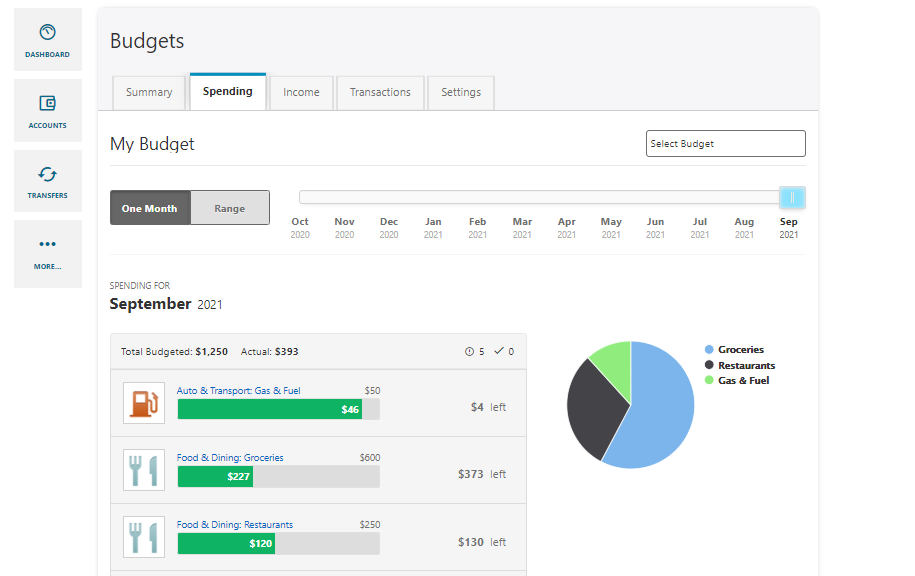 To build a budget in Digital Banking, first give your budget a name, and then select the account(s) you would like to be reflected in your budget. You can track your budget with the accounts you have at Southland, Next, add categories for your expenses and designate amounts for those categories. Next, create an income category and an amount. If you don't see the expense or income category you're looking for, you can create customized categories to fit your needs by clicking Manage Categories, and then rename an existing category or create your own. In Manage Categories, you can also remove categories you don't need and mark categories as discretionary. If you add a category which has been marked Discretionary to any of your budgets, we will warn you if you are getting close to your budgeted amount. A category is considered Discretionary if it's nice to have, but you have the option to adjust your budget for those items. Examples of Discretionary categories are: Entertainment, Coffee Shops and Home Improvement.
Once you have created your budget, return to the Budgets widget to track your progress. The Summary tab displays your total budget progress for the month, as well as any spending alerts you may have set.
On the Spending tab, you'll be presented with a graph of your spending categories. Move the slider to choose a different month or select the Range button to view your spending across multiple months.
The Income tab simply tracks your income deposits for the current month or across several months. You'll find a month slider similar to the one on the Spending tab, where you can choose to view one or multiple months by moving the slider and selecting the One Month or Range buttons.
The Transactions tab is where you will categorize all your transactions to track them in your budget categories. Click the Uncategorized label on each transaction to choose a category. You can also select multiple transactions at once by checking the boxes next to each transaction, then click Edit Selected and choose a category. Click the Show Search button to reveal a variety of search and filtering items to make your transaction categorization even quicker.
On the Settings tab, you can make changes to your budget. Add new categories and limit and add or remove accounts to track. Be sure to click Update Budget after making any changes.
📱 Mobile App Experience: The Budgets widget on the mobile app provides a quick view of your progress. You will first need to create your budget on desktop. Then, navigate to the Budgets widget on the mobile app and swipe right to view your income and swipe left to view your spending. Use the full desktop version of Digital Banking to modify your budget.