How Southland Associates Make Their Communities Smile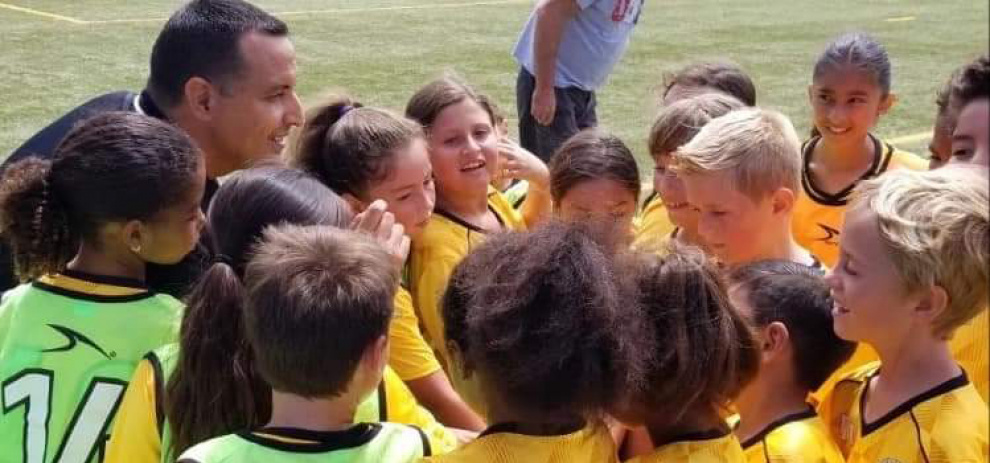 As a not-for-profit, Southland Credit Union is always looking for ways to give back to local communities here in Southern California.
While the Credit Union as a whole gives back to and volunteers for local organizations, many Associates are also involved in community service outside of the office.
We reached out to several of them to see what kind of work they do and how being a Southland Associate inspires them to give back!
Adam Hernandez
Card Services Representative – San Pedro AYSO
When Card Services Representative Adam Hernandez isn't helping Members with their ATM or credit cards, he spends his time as Coach Adam at American Youth Soccer Organization Region 6 San Pedro.
In 2017, Region 6 lost its permit to use Field of Dreams for practicing after the City of Los Angeles granted use to a different soccer league.
That's when Adam stepped in.
"Having played soccer in AYSO myself for my whole childhood and having coached youth soccer for the last 15 years, I felt compelled to help in any way possible," he said.
Together with his wife Nicole, who holds the title of Regional Commissioner and handles everything from registration to field permits and uniforms, Adam works with more than 150 soccer players.
They now practice at San Pedro High School's Olguin Campus Field, keeping Region 6 alive.
What do you like about volunteering with AYSO?
The most rewarding part of what I do is getting the opportunity to play a major role in the lives of the children I coach. By volunteering, I am doing so much more than just coaching soccer, I am helping raise today's youth and teaching them how to be good, contributing citizens. My hope is that it will carry onto the next generation and they, too, will someday become more involved and give back.
What was a more recent event you participated in? How did it make you feel at the end of the day knowing you gave your time to a local organization?
We had our end-of-year season party for the players and their families. During the course of the day, Nicole and I personally handed out trophies to all of our players, who are ages 4 to 16. We get lots of hugs, high fives and "Thank you Coach Adam's," and then we take a picture together. As a coach, their smiles are my trophies.
Do you have any tips for somebody who would like to get involved in something like AYSO or other local sports organizations?
I have a lot of parents who are hesitant to volunteer because they claim they don't know much about the sport. I tell them that the most important thing in the beginning is just to make sure the kids have fun. If we continue to lose volunteers, more and more youth athletic programs will start to falter and go away. In a world of electronics and technology, it is extremely important that we continue to provide fun and positive outlets.
How does working at Southland Credit Union inspire your community involvement?
I have never seen an organization that does so much for their Members and their communities. Truth is, we are like a big family. Knowing that I work for such a truly caring and giving family has inspired me to not only continue my own community involvement, but to also explore other ways I can help Southland continue their involvement as well.
How would you say your involvement makes the community, or yourself, smile?
When I am out and about in the community, I am constantly running into my former and current players and their families. The hugs I get and the smiles on both the parents' and players' faces are what it's all about. Knowing that I have given these families a positive experience brings a smile to my face.
Ani Edwards
Telephone Service Representative – Habitat for Humanity
For Telephone Representative Ani Edwards, community volunteering has been part of her life ever since she was in grade school.
She started out by visiting convalescent homes to sing Christmas carols with her classmates and would also hand out Meals-on-Wheels on the weekends.
Later on, she found opportunities to volunteer through senior care facilities, beach cleanups, L.A. Food Bank and Habitat for Humanity, an organization that builds affordable homes for families in need.
"Now I focus on volunteering for a handful of my favorites and donating money to my friends' kids' volunteering efforts to encourage them as someone once did for me more than 35 years ago," she said.
What drew you to Habitat for Humanity?
As a kid, I loved taking things apart like TVs, computers and, to my father's dismay, radios, so I could successfully put them back together again, to my mother's relief. I also loved building things, like entertainment centers, chests and lawn chairs. My parents both have real estate backgrounds, and it was a constant topic at our dinner table. When the opportunity presented itself to combine those loves into one by helping to build homes, I leapt at the chance to be part of it in whatever capacity.
What do you like about volunteering with Habitat for Humanity?
Learning new things, building, giving back and seeing the pure joy and tears of happiness from the recipients I help! Aside from that, I love meeting new people and being part of the teamwork and camaraderie.
What was a more recent project you participated in?
I volunteered as a crew member on Megan's Meadow with Habitat for Humanity in Seattle, Washington. We started with a review of the architectural plans as a larger group and split into small groups of three for different tasks. My group was tasked with measuring and cutting wood to build the foundation. At the end of the day, to see the foundation's end result and the skeleton of what was to come made me feel useful and accomplished. I wanted to do more and keep going!
Do you have any tips for somebody who would like to get involved with Habitat for Humanity?
Join their mailing list! Be able to step outside your comfort level! Bring lots of water and sunscreen, especially if you're outdoors! Be open to learning and check your ego at the door. You don't have to know much about building to volunteer; they have different projects year-round in different cities and states. They have something for anyone willing to donate their time.
How does working at Southland Credit Union inspire your community involvement?
One of the main reasons I joined Southland was because of its own sense of giving back to its community as an organization: not by writing a check or placing a banner at an event like other institutions do, but by physically being present and involved.
How do you believe your work with Habitat for Humanity makes others smile? How does it make you smile?
The fact that regular people from all ages and walks of life, are donating their time to build instead of a firm being hired to build, just means more to the recipient and makes it more special. When you see the pure joy and gratitude in the families' faces, you can't help but smile and cry tears of joy for and with them. Giving back for the sake of someone else's happiness makes me smile every time.
More specifically, and unrelated to your outside community work, what do you do to make our Members smile?
Volunteering translates smoothly into the customer service work I do for our internal and external Southland Members. In the Service Center, it's hard to actually see our Members smile over the phone, but you can definitely hear their smile when you meet and go beyond their needs. Making them laugh a little after gauging that they're having a rough day or taking a moment to listen to what's going on in their lives shows them we care. I love my work!
Patty Jimenez
Vice President of Lending – Los Altos Family YMCA
Southland's Vice President of Lending makes sure to carve time out of her busy schedule to sit on the Board of Managers at Los Altos Family YMCA, a branch of the YMCA of Greater Long Beach.
Over the years, she has also volunteered at community and trade events, sat on the board of the California Credit Union League, and spent time in the Big Brothers Big Sisters of America program.
What drew you to the YMCA of Greater Long Beach? How long have you been on their Board of Managers?
I'm on the board of managers for the Los Altos Branch. It's in the community that I live in. I like that they provide services for many of the surrounding low-income neighborhoods for people of all ages.
What do you like about volunteering?
Volunteering makes communities stronger. I am fortunate to be able to give time and help those that are in need.
What was a more recent event you participated in?
Currently, I am one of three division leaders for the Los Altos annual fundraising campaign. The division leaders communicate goals, meetings and announcements with their assigned volunteers. I am happy to be a part of this campaign because 100% of the money raised will go to fund initiatives such as free swim classes, day care, teen leadership and senior programs for the community.
In December, I volunteered at the Los Altos Family YMCA Christmas Tree Giveaway. The Y gave away trees to preselected families from a school where 80% of the students qualify for free lunches. The volunteers help set up the trees and helped the families load them on their vehicles. It was very rewarding to see children get so excited about a natural Christmas tree.
Do you have any tips for somebody who would like to get involved in the YMCA of Greater Long Beach?
The YMCA has many branches in the area. To get involved, simply visit your local branch and ask about their volunteer opportunities.
How does working at Southland Credit Union inspire your community involvement?
Southland Credit Union is an active participant in the communities surrounding our branches. This encourages employees and myself to do the same.
How does your involvement make you smile?
It's rewarding to see the YMCA's mission in action. I smile when I see the kids in swim lessons or at day care having fun. I also smile when I see seniors using the gym equipment and staying active.
More specifically, and unrelated to your outside community work, what do you do to make our Members smile?
While I don't have direct interactions with Members, I am always on the lookout for products and services that can improve our Members' lives.