CSULB Alumna Brings Long Beach State and Southland Together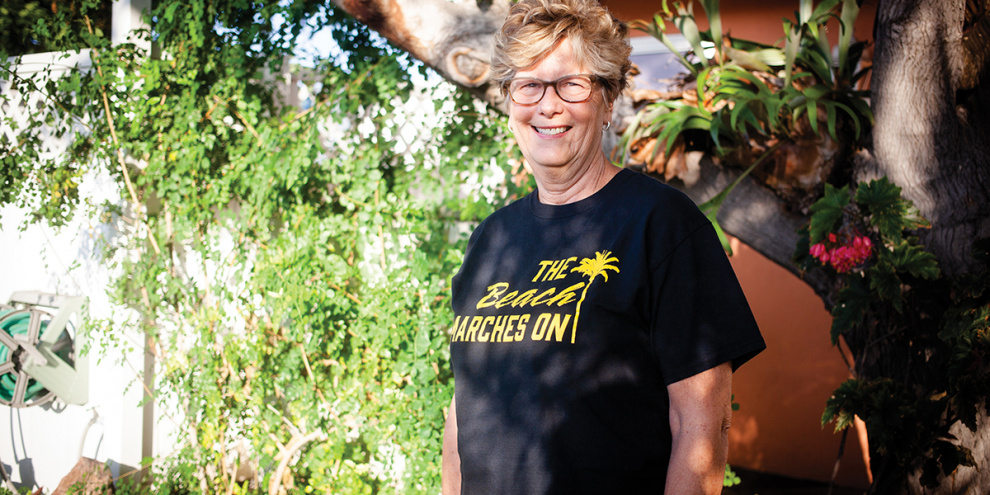 For most of her career and into retirement, Angie Avery has been involved with her local communities, including her hometown of Long Beach.
Not only is she Board Chair of Southland Credit Union, but she is also a member of Beach Fan Council, an organization dedicated to the fan experience at Long Beach State games.
She graduated with her bachelor's and master's degrees from Cal State Long Beach and even played basketball for Long Beach State Athletics during the mid-70s.
What started as a simple idea of having Southland sponsor Women's Basketball grew into Southland becoming the official credit union of the entire Long Beach State Athletics department.
"It was a fateful, small partnership that started a few years ago and grew from there," she added.
And the timing was perfect.
The partnership between the credit union and athletics department coincided with news of Southland's new location in Long Beach, just blocks away from campus.
"The goal was to be able to open up the Southland experience to students and staff," she said.
We sat down and talked with Angie about what the partnership means to not only Long Beach State, but the city's community in general.
Southland Credit Union has become the official credit union of Long Beach State. How did you help with that process?
I first developed a sponsorship for Women's Basketball only. All around this time, the board was discussing the Long Beach Branch. Simultaneously the Long Beach Branch was purchased. Through a series of relationship-building events, it was decided by the board and by staff that it was a good relationship to pursue.
What was your reaction when the board and staff finalized the partnership?
I was very excited on several different levels. I was really excited about the business prospects for Southland, as Chair and as a Board Member. But being an alumna from Cal State Long Beach, I was excited because it's my school! Not only did I play basketball, but I was a graduate assistant when I played, so I have deep roots with the department. It's just personally gratifying and exciting.
How do you think students and student athletes can benefit from this relationship?
If they are smart, they'll pay attention to Southland. If they are in school to get an education, they should get a financial education. Southland is a friendly, wonderful, professional place. But we are small, so we will pay attention to their needs as students and young professionals. We can grow with them as their life progresses. That's the main thing that I want to see.
Could it also benefit faculty?
Absolutely! Southland can benefit anyone. It can benefit students, faculty, staff. We have products and services that at every life stage can meet your needs. It's really cool that there will be a branch down the street from the campus.
How do you think the new Long Beach branch will benefit the community?
Southland has a bonafide history of everywhere we open a branch, we create a really strong relationship with the local community. There's two banks in the same location, a Chase and a Bank of America. They don't do the same thing as Southland. They are nation-wide. It goes without saying that we can help the community and their financial needs.
Going into the new year, what do you think members can look forward to with Southland?
We have just rebranded Southland. Not only do we have a new logo, which is the most visible part, but it's a new sense of mission and awareness and togetherness. It is very forward-looking.
To have a new branch is a big deal. To purchase a branch, to brand it, to develop a new customer base – it's growth! It's exciting!
I understand that you go to a lot of Long Beach State games?
I try to go to as many as I can. It's about supporting the university. If I don't go to the games in person, sometimes I watch the live feed.
What do you like about going?
Any Long Beach State sporting event is exciting. They play schools that are much more well-known and nationally ranked, and the fact that you can drive up in the parking lot, park close and walk in, it's fun! It's neighborhood-like! It's convenient. They've really cultivated the community feel. That's what I like. It's Long Beach. I grew up in Long Beach, I went to school there, I live there now. That's what I like about it. It's a hometown feel.
Popular News
Featured News
Categories