"Our partnership with Southland is a phenomenal one"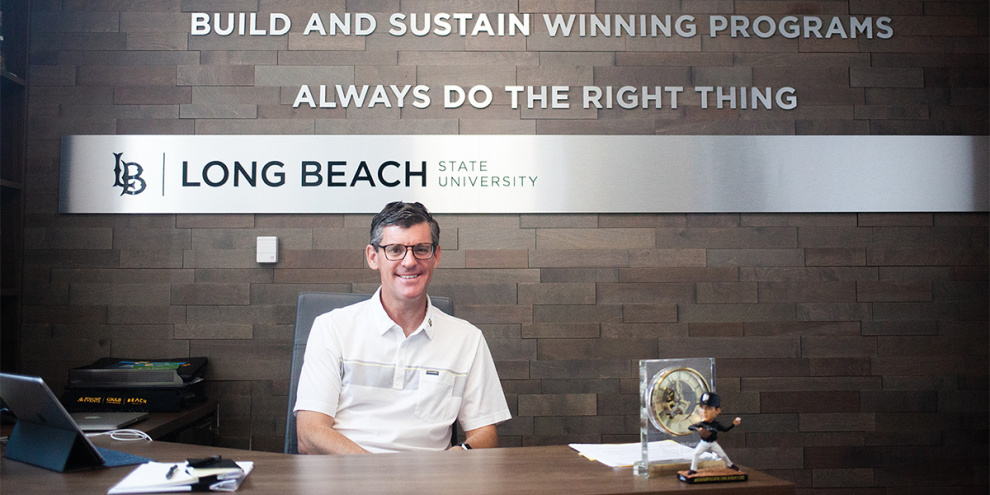 Working with Long Beach State Athletics was always a dream job for Andy Fee.
"This is a destination for me, in terms of my professional career," the Long Beach State Athletics Director said.
He got the job in May 2017, but had been thinking about it during his time as Deputy Athletics Director/Chief Development Officer at University of California, Santa Barbara. And it wasn't too far into his new role at The Beach when discussions started about Southland Credit Union partnering with the athletics department.
"It's been a year and a half getting to know everybody here in the community, and it's been great getting to know everybody at Southland," he said. "Our partnership is a phenomenal one."
Southland became the official credit union of the Long Beach State Athletics Department in the summer of 2018. Since then, Southland has been proud to provide sponsorship to Beach Vision, which produces live streams of almost every Long Beach State home game.
We sat down with Andy to ask how the partnership has helped not only Long Beach State, but the Cal State Long Beach community in general.
How involved were you with the process of the partnership?
Very involved! We began the conversation initially as a way we could do a partnership with the Women's Basketball program. I think that went well, and everyone felt good about it. Then the discussion was, how can we increase and find something that allows us to have Southland shine in its association with us? It was a fun process because our values align. The help from Southland has changed Beach Vision and our production in terms of spreading our brand, not only locally but globally.
When it was finally announced that the partnership would not only be with Women's Basketball but for the whole department, what was your reaction to that?
I was excited. It's a game-changer for us. Beach Vision, which broadcasts our home games, allows our local fans — since not everybody can go to every game — to stay connected. We now broadcast water polo matches, softball games, soccer matches, you name it. It's really an opportunity to have our fans get to know us better.
As Director of Long Beach State Athletics, how do you see the partnership helping the department as a whole?
One of the really cool things I think is Beach Vision and the production itself. Thousands of people, people in our community and people around the world, are watching these games online. We have professional staff that directs the production of all of these matches, but we are able to hire students. And the students are getting real-world experience. It's really been a benefit to increasing brand awareness, but also helping our students in terms of finding an avenue to get them practical work experience.

How else do you think the relationship could help student athletes or other students and faculty on campus?
One of the things that we continue to focus on is the experience our student athletes get. I've got three core values that we always talk about: Providing the best possible experience in the classroom and field of competition; building and sustaining winning programs; and always doing the right thing. This partnership allows us to enhance that experience. Whether it's through increased opportunities, through academic support or nutritional help, or professional development through life-skills curriculum.
With the new branch opening in Long Beach, do you think that will benefit CSULB and Long Beach as a city?
I think in an age with these huge corporations that are just monolithic, that sometimes feel impersonal, to have a financial institution that is real and has people that care about our community and show up in our community is valuable.
Do you have anything in the new year that Long Beach State Athletics is looking forward to?
Starting in January, we will be kicking off our baseball and softball seasons, among a few other sports. The Dirtbags are a huge piece of our success along with our softball program, which went to the NCAA tournament last year. We have high expectations for both of those programs.
In the late part of Spring and May, we will be hosting the Men's Volleyball Final Four, which is the National Collegiate Men's Volleyball Championship. We are going to really push for that to be a shining light on the community, engage our local businesses, our Mayor's office. The campus is really going to go all in and treat this like it's the Super Bowl. I feel this is a great way for people outside of our region to talk about us. When people tune into ESPN and see Long Beach and our pyramid, they understand what it means to be here at The Beach.
Popular News
Featured News
Categories