Beach Vision sees bright future after sponsorship from Southland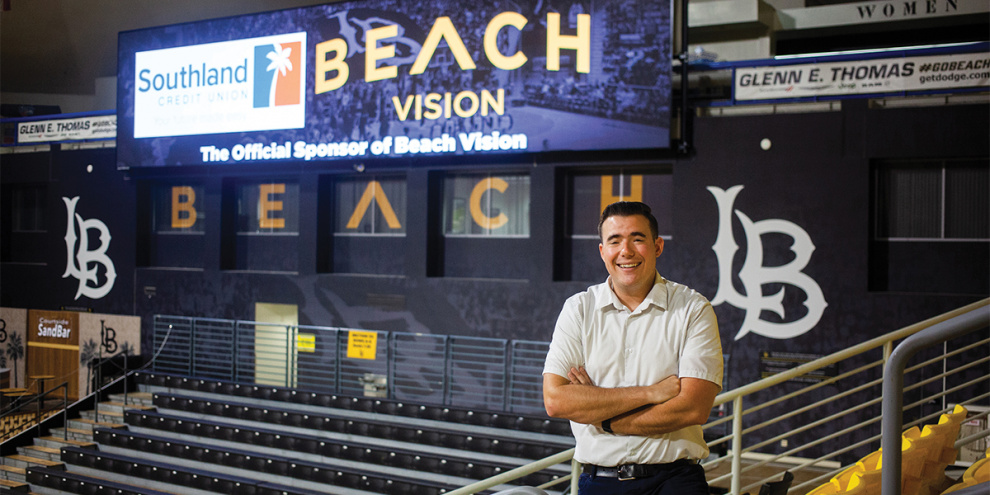 It's a Wednesday, and Beach Vision Director Steven Calista is planning ahead for the seven live streams that will take place over the weekend – one game on Friday, three games on Saturday and another three on Sunday.
"It's not our first time doing seven streams," he said with a confident chuckle.
Beach Vision is a production team made up of Cal State Long Beach students and alumni who livestream most home sporting events. Before Southland Credit Union became the official credit union of Long Beach State Athletics and sponsored Beach Vision's efforts, a weekend with seven streams was not possible.
During the first two years of operation, the production team was only able to stream four sports: Men's and Women's Volleyball as well as Men's and Women's Basketball. That amounted to 60 streams a year.

After partnering with Southland, Beach Vision has more than doubled the amount of streams to 150 per year. They've picked up Baseball, Softball, Women's Soccer, Men's Water Polo and Women's Water Polo.
"Putting that in terms of live coverage and pure hours, that's almost about 300 hours of pure live coverage," Steven said. "We were able to actually purchase more equipment … and hire more interns to operate that equipment and train them."
The livestream crew grew from one or two interns per semester to seven. They also have around 20 people on staff, including former and current students.
The main team consists of Steven, Assistant Director Andrew Rodriguez and Beach Vision Assistant Andrew Fischer.
"When you are directing and doing stuff live, it builds and trains you," Steven said.
When he was studying at Cal State Long Beach to work in the film and television industry, Steven said that Beach Vision didn't exist.
"When we went out into our fields, we realized we didn't have a lot of hands-on experience," he said. "This is something huge. A lot of our workers will go straight to ESPN."
In addition to giving students professional experience, Steven says that the Southland sponsorship has allowed Beach Vision to offer more accessibility, quality and connection to fans. During the stream, Beach Vision is able to include live interviews with athletes and coaches, incorporate multiple angles and integrate graphics.
They also now have a more user-friendly platform that not only allows for a better watching experience, but it also allows the production end to create live highlights that can be replayed during the stream or tweeted out on teams' Twitter accounts.
"We started an LB Top 5, where we round up the top five plays of the month, which we weren't able to do before," Steven said.
He said that Beach Vision is also now able to send more complete highlight reels to stations like Fox and ESPN at the end of the year.
And what about one day seeing the big blue Walter Pyramid regularly on ESPN? It's a goal of Beach Vision, Steven said.
"One of our huge dreams is to get Long Beach State on an ESPN3 level, where all of our stuff is being streamed on ESPN," he said.

But at the end of the day, it's all about sharing stories and connecting fans.
"We are able to cover more of our student athletes and we are able to tell more of their stories," he said. "A lot of our student athletes are local, but a lot of them are from overseas or around the nation, so a lot of their families can't come to every game to see them perform. It's a huge deal that parents know their children's games are going to be streamed."
How To Stream Long Beach State Games:
Go to LongBeachState.com.
On the right-hand side at the top, there is a "Watch Games" tab. Click the tab and it will redirect you to all of the live streams.
You can check two weeks in advance to see which games will be streamed.
You can also check the online schedule of your favorite sport, where the streaming schedule is also listed.
Streaming is also available on mobile or tablet devices.
Fans can watch past games, too. Past streams are available online for a few weeks after the live stream date.
Where to Follow Long Beach State on Social Media
Popular News
Featured News
Categories