2020 Board of Directors Elected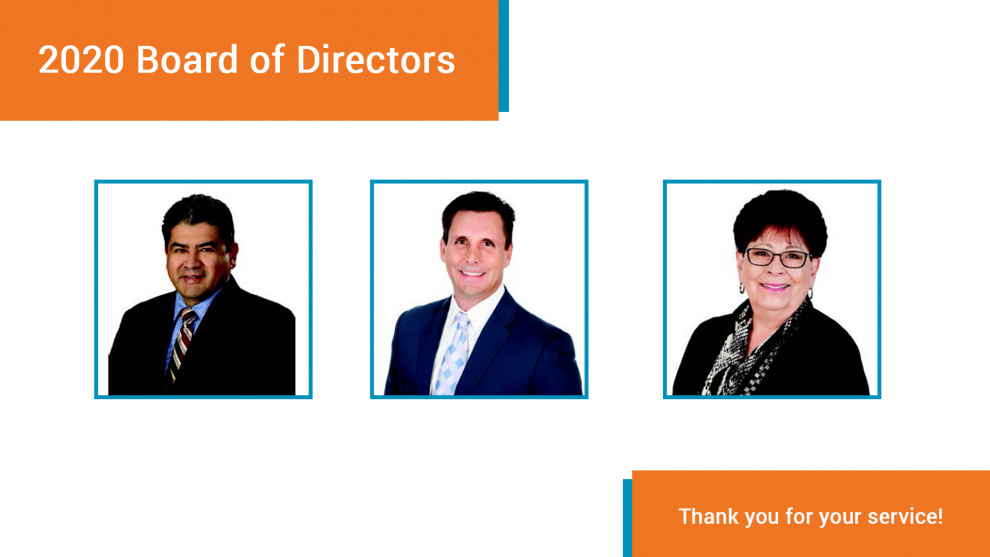 Thank you for your service.
March 26, 2020, marked Southland's Annual Membership Meeting, during which the results of the Board of Directors and Supervisory Committee Election were announced.
Our Volunteers and various Committee Members work hard and donate their free time to ensure that Southland remains a financial institution that is focused on Member service and remains profitable. We thank them all for their dedication to the Credit Union.
2019 Board of Directors & Committee Members
2019 Board of Directors
Angie Avery - Chair
Jose L. Manzano - Vice Chair
Bradley P. Silcox - Secretary/Treasurer
Dolores M. Arriola - Director
Becky Cool - Director
Walter Finnigan - Director
Annie Perez - Director
Margaret Tollner - Director
Thomas H. Willingham - Director
2019 Supervisory Committee
Morris J. Litwack - Committee Chair
Donita Smith - Secretary
Justin Laird - Member

2020 Board of Directors & Committee Members
2020 Board of Directors
Jose L. Manzano - Chair
Bradley P. Silcox - Vice Chair
Dolores M. Arriola - Secretary/Treasurer
Angie Avery - Director
Becky Cool - Director
Walter Finnigan - Director
Justin Laird - Director
Annie Perez - Director
Thomas H. Willingham - Director
2020 Supervisory Committee
Morris J. Litwack - Committee Chair
Donita Smith - Secretary