Southland Credit Union Donates $25,000 to Harbor-UCLA Medical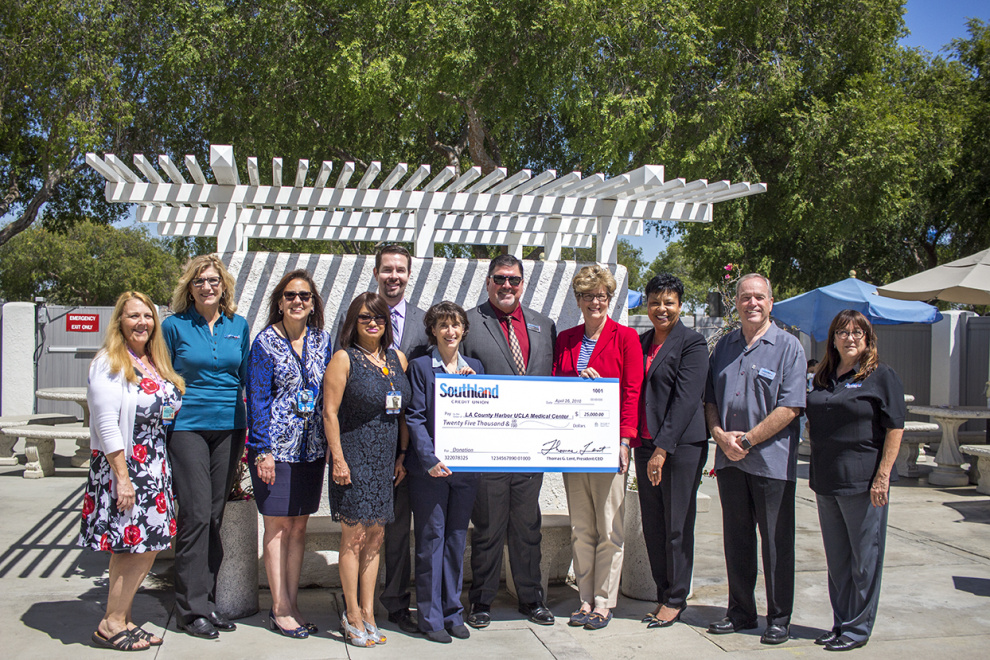 Los Alamitos, CA (May 2 ,2018) — In a gesture to continue the strong partnership between Harbor-UCLA Medical Center and the now merged Harbor Credit Union, Southland Credit Union made the first of four $25,000 donations to the medical center in April. The donation will contribute to a project fund to make improvements to the medical center's cafeteria, specifically the outdoor patio seating area, where staff and visitors congregate for breaks and meals.
Southland Credit Union, which completed a merger with Harbor Credit Union in January 2017, has agreed to make four donations of $25,000 to Harbor-UCLA Medical Center over the course of four years, totaling $100,000. While the use of the future donations is to be decided, the funds are intended to benefit the wellness of employees and patients in key areas of the medical center.
"It is our sincere hope that this contribution will provide a positive impact to all those who rely on Harbor-UCLA for life-saving care and treatment," said Thomas Lent, CEO of Southland Credit Union. "We are proud to continue the legacy of partnership established by Harbor Credit Union."
The history between the Harbor branch of Southland Credit Union and Harbor-UCLA Medical Center extends over 70 years. The credit union has provided financial services to the physicians and healthcare professionals at the medical center since 1947. Harbor-UCLA credit union members now have access to more branch locations and services as a result of the merger with Southland.
The executive team at Southland will work alongside Azar Kattan, Chief Operating Officer of Harbor-UCLA Medical Center, and her team to allocate the remaining donations to future hospital improvement projects.
###
About Southland Credit Union
Southland Credit Union is a $742 million credit union that serves 60,000 members in Orange County and portions of Los Angeles County. Operating as a not-for-profit financial cooperative, Southland's mission is to provide exceptional member service resulting in superior financial strength, convenience, and valued solutions. For more information, visit www.southlandcu.org.
Popular News
Featured News
Categories