Bill Pay: A new and better way to pay bills
Need help? Contact the Bill Pay Support Team
800-599-1326
Hours of Support
Monday - Friday, 4:30 a.m. to 11:00 p.m. PST
Member Guide
Southland Bill Pay makes it simple to pay all your bills in one place. Click Add Payee to pay a person or business. Enter your account number and payee mailing information, which is typically found on your billing statement. Once you confirm and submit your payee, you can schedule a payment. Choose to send a one-time or recurring payment based on the frequency, start date and end date of your choice. The Delivery Method is automatically selected based on preferences set by the payee. There is no fee to send a payment, whether it is sent electronically or by check.
In the Bill Pay widget you can also:
Receive and view bills using eBills
Pay multiple bills all at once in the MultiPay tab. You can select multiple payees from your list, enter your payment amounts and dates and submit with one click.
View or modify your upcoming scheduled payments in the Scheduled tab.
View payment history on the History tab.
eBills
Receive, view, pay and tracking your bills online, all in one secure place.
For certain payees, you can see detailed billing information from your Bill Pay dashboard. If your payees provide them, you'll see each line of your statement, including your balance, credits, recent transactions, payment history and amount, the minimum payment due and more.
How to set up an eBill
In Digital Banking, navigate to the Bill Pay widget.
Set up your payees if you have not done so already.
On the Bill Pay dashboard, select "Set up eBill" under the payee's name.
Enter your login credentials for the payee's website.
Review the terms and conditions, then select Continue.
📱 Mobile App Experience: On the mobile app, you can make a payment, view your scheduled payments, and view your payment history. To add or edit a payee on mobile, tap Manage Payees. MultiPay is not available on mobile.
Frequently asked questions about Bill Pay
Q: What is Bill Pay?
A: Online Bill Pay is a service that allows you to pay virtually anyone or any company through your online banking account. You determine who you want to pay, when you want to make the payment and which account you want the payment to come from. It's safe, secure and easy to use.
Q: Who can I pay with Bill Pay?
A: You can pay virtually any business or individual with a mailing address within the United States and Puerto Rico. For example, you can pay utilities, cable bills or credit cards, or individuals such as a landlord, babysitter or relative.
Q: How are online payments delivered?
A: Payments are sent one of two ways — electronically or by paper checks. The majority of payments are delivered electronically. Your payment information, such as your account number, is sent via secure transmission. All other payments are made by paper checks that are mailed via the U.S. Postal Service.
Q: What will move over in the conversion to Digital Banking?
A: Your payees and scheduled payments will be moved over to the new Bill Pay experience in Digital Banking.
Q: What will not move over to Digital Banking?
A: Your payment history will not move over.
Why use Bill Pay?
View payees and bills in one dashboard
View and pay your bills electronically
Pay all your bills at once with MultiPay
Make secure payments to any person or company anywhere, anytime
Verify your account balance as you pay your bills
Set up recurring payments to save time each month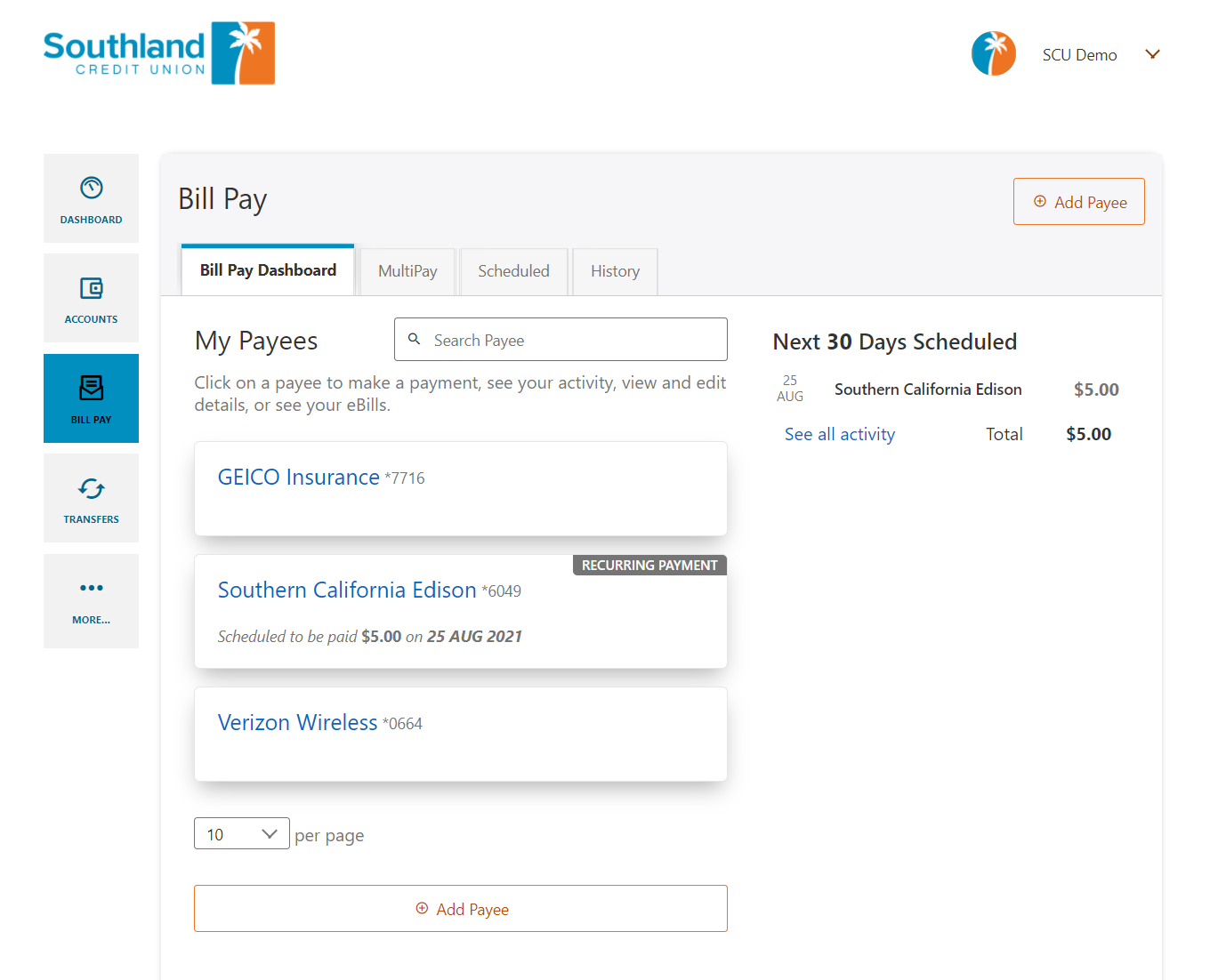 Helps you manage your expenses
Savings. Save money on stamps and trips to the post office
Security. Protect against check fraud with electronic payments
Simplicity. Track your payments history at a glance
Gives you more control
Convenience. Receive and pay your bills all in one place
Confidence. Check to confirm that payments went through
Control. Schedule single or recurring payments in just a few steps