Four Common Scams and How to Avoid Them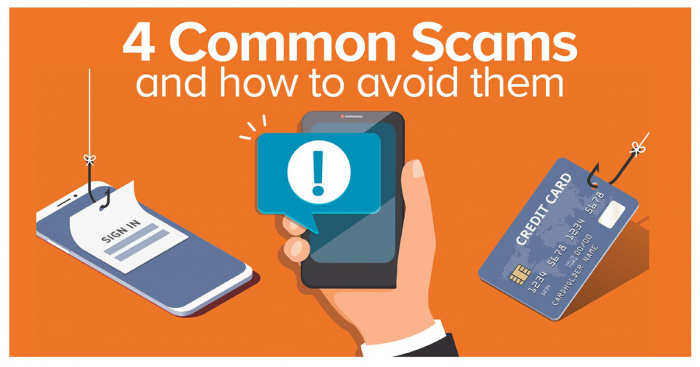 Scams are everywhere, and with the rise of social media and streaming services, they have become more elusive and trickier to catch.
According to a recent LA Times article, "The bogus-check scam is back, in the form of a car-wrap offer" by David Lazarus, scammers often modernize common tactics to try and trick potential victims into sharing personal information or making unnecessary payments.
1. Check scam
According to Lazarus, this check scam is common, and the premise is simple. The scammer first contacts an individual about giving away a sum of money.
The scammer then sends a larger check in the mail, asks the potential victim to put it in a bank account and circles back to say, "Actually, I need some money to complete the process."
Because it takes a few days to process a check, if a money transfer is quickly made, it all comes from the victim's account.
Tips:
If a big company is texting you, call the company directly to make sure it is legitimate.
If the person of contact is pressuring a hasty transfer, don't deposit the check.
2. Facebook phishing

It's no surprise that scammers take to social media sites like Facebook, where users often share contact and other personal information.
Email addresses, phone numbers and Facebook interests can be used by scam artists to contact potential victims and trick them into sharing more sensitive information, like credit card numbers and passwords.
Tips:
Limit the information you share on your profile.
Create a unique password using a random mix of letters, numbers and characters.
Fib information, like your birthday, hometown and place of birth; These clues could be used by scam artists so they can answer password security questions for other accounts they might be trying to get into.
3. Netflix scams

Asking for Netflix account verification via email is another scam that is on the rise, according to our Security Center.
Scam artists will send an email asking a Netflix user to click a button and confirm account and payment information. Scammers will likely also ask for login information and could have access to other accounts if the same password is used elsewhere.
Tips:
If the email is sent to a work account that is not connected to your Netflix account, this is a clear sign that it is a scam.
Use a unique password.
4. Phishing website imposters
According to IT security company Webroot's recently released Quarterly Threat Trends Report, 1.4 million new and unique phishing sites are created each month. The sites usually target people by using information that they get on social media.
Our Security Center reminds readers to not be afraid to network, but be aware that your information is out there and could potentially be used to attempt to scam you.
When in doubt, remember to question every phone call, text or email that asks for sensitive information. Never share your Southland Account information on social media, even in private messages.
We also encourage you to visit our Security Center on SouthlandCU.org under the "Advice" tab. It is updated often with the latest news and tips on current and ongoing scams.