SMART New Year's Resolutions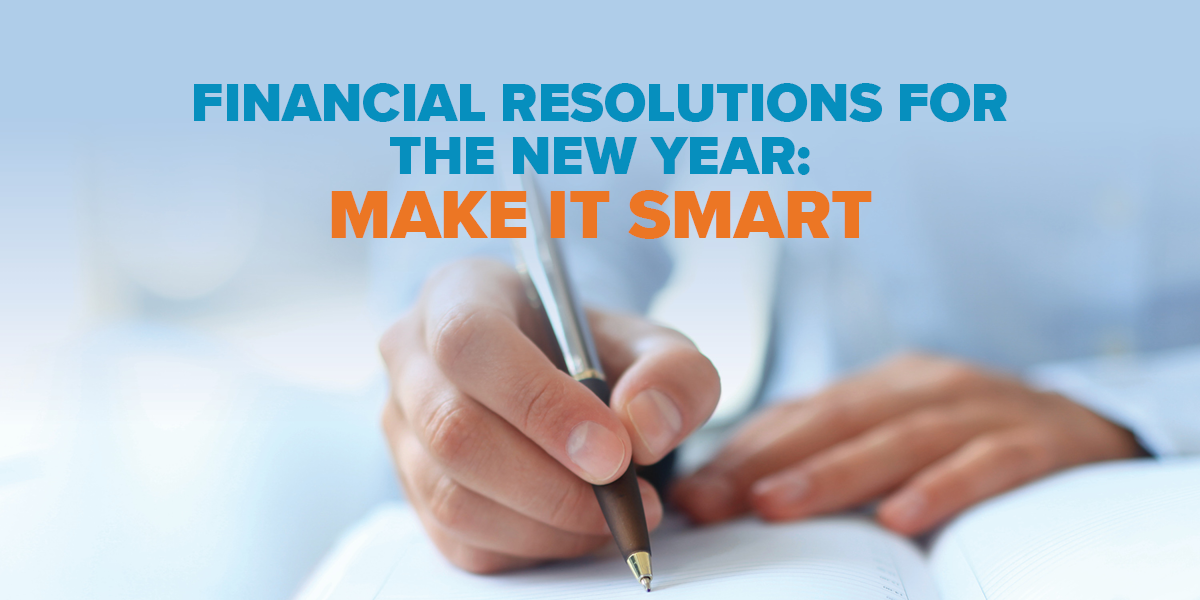 Financial Resolutions for the New Year: Make it SMART
If you're like most people, you likely start each year with a list of resolutions to help you improve various aspects of your life. The list may include resolutions to help you become more physically fit, further your career growth and improve your personal relationships. Another category of resolutions you may make centers on those that affect your finances.
If the latter is true, there's probably a good chance that your list of resolutions for the new year looks the same, year after year … after year. Yes, it's easy to come up with ways you can improve at year's end, but seeing those resolutions through and actually making them happen is another story entirely.
Spend less, save more, pay down debt — how can you make 2023 the year you actually stick to these and other financial resolutions?
Below, we've compiled a list of tips that can help you keep your financial resolutions throughout the New Year.
This year, make your financial resolutions stick by keeping it SMART:
Specific
Measurable
Achievable
Relevant
Time-based
Specific. Don't be vague about how you want to improve. Resolutions like "save money," or "spend less," don't translate into tangible steps. Instead, make goals like "save $25 each paycheck," or "budget $150 per week for groceries." This way, your resolutions are clear and easy to put into action.
Measurable. Make sure your goals have clear markers to help you track progress. Use a budget tracker to measure your progress each month. Use an app like Mint, or use the budget tools in your Southland Credit Union Digital Banking account.
Achievable. Be realistic about what you intend to accomplish. If you have never given yourself a budget before, don't set aggressive saving and spending goals that you are unlikely to achieve. Look at your past spending patterns and make small changes over time.
Relevant. It's best to concentrate on the areas where you most need to improve. While other goals may sound nobler, work first on the areas where you know you are lacking. If you need to reign in your online shopping spending, for example, then focus on just this area first.
Time-based. Set a specific date for achieving each goal. A self-imposed deadline will push you to work on your resolution today. Give yourself a goal to save a certain amount by a deadline. Once you meet your goal, be sure to celebrate your achievement!
Ways to save with Southland
Certificate Account. Looking for a Specific, Measurable, Achievable, Relevant and Time-based savings goal? Look no further than a Certificate of Deposit. By setting aside some of your savings in a Certificate, you'll know exactly how much you will earn and by when.
High Yield Savings Account. If you want the flexibility to access your savings when you need it, a High Yield Savings Account offers both account access and a high dividend rate. If you can maintain enough balance in the account to earn the high rate, this account is for you.
Money Market Account. If you plan to grow your savings over time, but you still want access to your funds just in case, a Money Market Account might work best. You can earn dividends right away, and grow your earnings as you grow your balance.
Primary Savings Account. If you're brand new to saving and want to get started with a small balance, try a Primary Savings Account. Every membership at Southland comes with one, and it's an easy way to establish your savings. You'll always earn dividends on a Primary Savings Account, and you can make the move to an account with a higher rate once you're ready.