Tips for Spring Cleaning: Time to Tidy Up!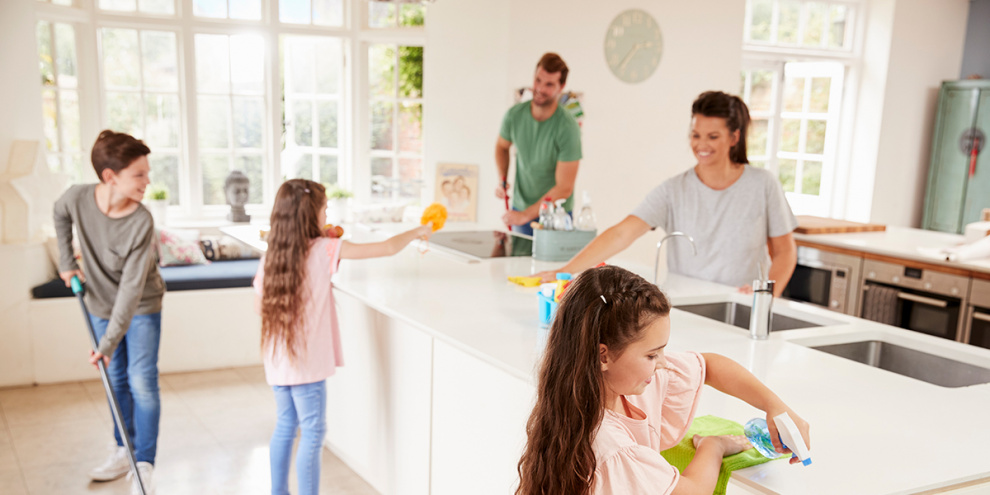 If Marie Kondo of the popular Netflix series "Tidying Up" hasn't inspired you to spark joy in your personal abode quite yet, we're here to give you some inspiration for this year's spring cleaning season!
While her book "Spark Joy" and episodes of "Tidying Up" promote the KonMarie Method, which is essentially a decluttering process, there are plenty of other tasks to consider around the home during this time of year.
Decluttering the KonMarie way
Take a day to go through everything in your home to see if you can let go of anything you don't need. Getting rid of things that are not used not only clears space, but it also helps to clear the mind!
According to a blog post by Milk and Honey Spa, The KonMari Method suggests going through your clothes, shoes, books, papers, miscellaneous items and personal mementos. If something you own does not make you happy, or rather "spark joy," or you don't have any use for it, then put it aside to donate, sell or discard.
Donate away!
After going through everything, which should be done in one day instead of over time to avoid hanging onto unnecessary items, place what can't be used into a trash or recycling bin. If something can be donated, consider giving it away to a local organization! Goodwill and Salvation Army are great options, but there are other Southern California nonprofits that would benefit from lightly used clothes or household items:
Thrift and Gift Shop, 3622 Florista St., Los Alamitos. The store donates 40% of its proceeds to Precious Life Shelter, an organization that provides a safe environment for pregnant woman who have nowhere to live. The store accepts all clothing, household items, small appliances, books, toys, antiques and more.

Second Tyme Around Shop, 11026 Downey Ave., Downey. The shop donates proceeds to: Operation School Bell, an organization that provides new clothing for children in Downey schools; H.O.M.E. (Housing of Medical Emergencies), a 10-unit apartment at Rancho Los Amigos Medical Center for families of patients; Dental Program, a dental care service for Downey children; and scholarships to local high-school students. The shop accepts clothing and shoes in all sizes, small appliances, decorative items, furniture, artwork, books, music, toys and tools.

Long Beach Rescue Mission Store, 702 W. Anaheim St. All sale proceeds go toward the organization's homeless recovery and assistance programs. The Thrift Store Warehouse also provides work therapy for men and women in the program.

Council Thrift Shop. The store supports National Council of Jewish Women Los Angeles, which serves women, children and families in need through community mental health programs, supportive services, youth engagement programs, intern training, scholarships and clothing assistance. There are two locations in Santa Monica: 11801 Santa Monica Blvd. and 10960 Santa Monica Blvd.

Clothes the Deal. If you have any business clothes you are looking to get rid of, this Downey-based nonprofit is the way to go. It provides attire to low income individuals who need clothing for their next job interview. There are several drop-off locations: LA Law Library, 301 W. First St., Los Angeles; Cleaner By Nature, 2407 Wilshire Blvd., Santa Monica; and The Deal Distribution Center, 9525 Imperial Hwy., Downey.
Get squeaky clean!
Like decluttering, cleaning the entire home should also be done in one fell swoop. The key to cleaning is to divide and conquer. For the kitchen, which is most likely the toughest space to clean, start with deep cleaning the oven and refrigerator. Clean out the pantry and cupboards. Be sure to mop and wipe down the counters, too!
For the living room and bedrooms, focus on the areas that don't get much attention during each weekly sweep. Dust ceiling fans, book shelves, framed photos, paintings and the television area.
For the bathroom, deep clean the shower and check that tile grout. This is also a good time to go through the medicine cabinet and underneath the sink to organize any beauty and cleaning products as well as medications, towels and hygiene items.
Take care of smaller repairs
While cleaning, you might notice some paint chips, squeaky doors, stained wood or air vents that need to be replaced. These can all be done within a weekend, but you might want to save them for the following week. After all, you just did all that cleaning and decluttering! Write the small projects down on a separate to-do list, but don't push them aside! It's springtime, after all!
Take note of larger repairs
While you're doing all that deep cleaning, you might stumble upon something bigger that needs to be fixed. Maybe there's some termite damage, mold, roofing issues or a faulty foundation that you haven't noticed before.
All of this can be expensive and time consuming, but you don't need to worry about that when you can apply for a Home Equity Line of Credit at Southland Credit Union.
Southland's HELOCs offer a low-cost alternative to high-interest consumer loans and credit cards. You can borrow up to 90% of your home's appraised value to do things that need to get done, including home improvements and even a much-needed summer vacation after all that cleaning and repair work you did this spring!