Ideas for your Next SoCal Road Trip!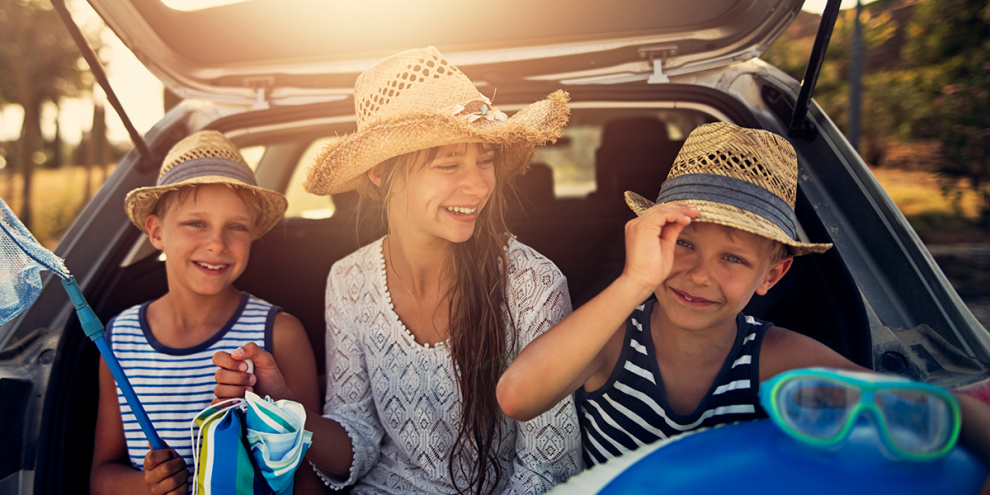 Whether it's tradition or spur-of-the-moment, summer road trips are always a fun vacation idea. Especially in Southern California, where an adventure can be found just a few hundred miles away or less!
Close to Home
You don't have to spend 10 hours cooped up in a car to call it a road trip.
Sometimes driving one or two hours out of town is just enough to give you some new scenery and a break from the day-to-day of life back home.
In Southern California, there are so many great destinations right at your fingertips. Consider a few of these cities for a weekend or even a day trip:
San Diego
A quick drive south on the 405 will bring you to an area that is rich in history but hip enough to make nights out entertaining and fun. Skip SeaWorld and go straight to Balboa Park. The historic landmark has a full day's worth of activities, museums and gardens to explore. The park itself, an outdoor area surrounded by Spanish Colonial Revival buildings constructed in the 1800s, is a sight to behold. Of note is the San Diego Museum of Man. It takes a look at human history, culture and interactions. For a night out, be sure to check out the North Park neighborhood. Not only are there cool craft cocktail bars, like U31 Cocktail Lounge, and local breweries, like Modern Times Beer, but there's also The Observatory North Park music venue where you can catch a live concert.
Santa Barbara
If you've been to San Diego a few times because of its convenient location, you might want to travel north to Santa Barbara. Here you can visit Old Mission Santa Barbara, a cultural and historical landmark built in 1786. If you're into nature, you can hike on the beautiful Romero Canyon Trailhead. You can even kayak through caves when visiting Channel Islands National Park.
If you prefer a fine meal and glass of wine, there's a Santa Barbara Urban Wine Trail where you can bar hop and taste some of California's finest sips.
Lake Arrowhead
Maybe you're seeking something less "coast-y" and wanting something that's more "cozy." Look no further than Lake Arrowhead. Located in the San Bernardino National Forest mountains, the lake provides a serene space with plenty of nature and views to gawk over. After a few hikes and swimming in the lake, be sure to rest up at Saddleback Inn. The rooms, which are actually mini cottages, have a cabin feel to them. The hotel's restaurant, Diane's Saddleback Grill, serves up tradition with its steakhouse fare.
Up the coast
Driving up the coast is a classic and scenic California road trip idea.
Sure, there's always the big city of San Francisco. But if you're looking for something more quaint, why not visit small beach communities like Carmel and Monterey?
These destinations can provide a calming getaway when you need a break from urban cityscapes and their constant hum of energy.
Carmel-by-the-Sea
Carmel not only has beautiful coastlines, it also has a rich artistic history. In the early 1900s, artists and writers found refuge in the small city after a major earthquake hit San Francisco. A Carmel Arts and Crafts Club was founded in 1905, and it promoted artists and their work through exhibits, plays and lectures. Today, visitors can go to Golden Bough Playhouse, a historic theater built on the site of the original Carmel Arts and Crafts Clubhouse. Tours are offered at the Tor House, a stone cottage made out of rocks from Carmel's beaches. It was once owned by poet Robinson Jeffers and hosted guests including Sinclair Lewis, Charles Lindbergh, Charlie Chaplin and George Gershwin.
Monterey
Located a hop and a skip away from Carmel, Monterey is worth a visit. Going to the Monterey Bay Aquarium is a must. With more than 35,000 creatures featured in 200 exhibits, the nonprofit institution is beautiful and educational. Don't miss the otter and penguin feedings too! A schedule can be found on its website, MontereyBayAquarium.org. For a hearty bowl of clam chowder, take a walk to The Old Fisherman's Wharf. It was built in 1870, was used for fishing during the 1960s and is now a popular tourist attraction with shops and restaurants. Not to miss is Old Fisherman's Grotto, a restaurant built in 1950 and fit for any seafood-loving, mahogany-adoring diners.
Island trip
Sure, it's fun to vacation by the sea. But what about visiting a destination where the Pacific Ocean quite literally surrounds you?
No, we aren't talking Hawaii. Rather the smaller island just off our coast of Southern California: Catalina Island.
The drive is relatively short. A visitor can depart from Long Beach, San Pedro or Dana Point and use the Catalina Express boats as a means of getting to the island. After saving all that money on gas, why not splurge a bit for lodging? Catalina offers boutique bed and breakfast inns, like the Mt. Ada, which features six unique rooms, a den with a fireplace, ocean views, a terrace overlooking Avalon Bay and transportation to and from the ferry terminal.
For something on the more affordable side, Hermosa Hotel offers cottages that feature kitchenettes and historic charm. The lower rates and option to save money on dining out are great for the budget-minded.
The island has a rich history in art and film, and there are a few historical landmarks to check out. Built in 1929, the Catalina Casino Building is not filled with slot machines, but it is known for its ballroom, lower-level theater and extravagant Art Deco designs.
The Green Pleasure Pier was built in the early 1900s and is today a great place to visit for water activities, dive centers and restaurants.
Popular News
Featured News
Categories