Life Stages: Young Adults and College Students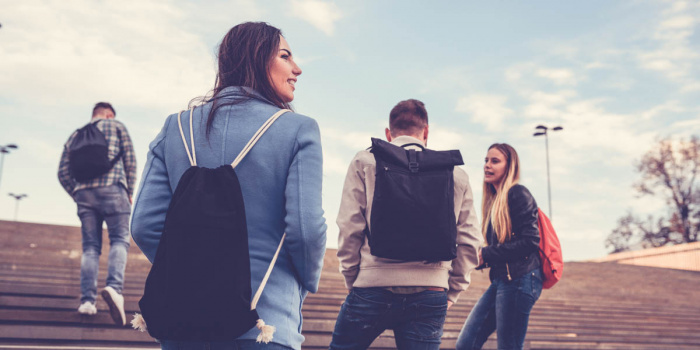 When Southland Member Ashlie graduated from high school in 2016, she decided to continue her education at Grand Canyon University in Arizona.
Before making the trek from Southern California beaches to cactus-studded Phoenix, she signed up for a Southland Visa Credit Card.
"I wanted to have access to extra funds for emergency purposes while away at school," she said.
The Visa Credit Card helped her during her time in the nursing program, she said. She would use the card for bigger purchases, including on-campus housing deposits and textbooks and emergencies. The card also came in handy for laundry, grocery shopping and other small expenses.
On holiday breaks and during the summer, she worked to save up money and would pay off her Southland Visa Credit Card bill completely before returning to school the next year.
"It is super easy to make payments on the Visa," she said. "I have the mobile app and use online banking as well. I like to use the quick transfer from my checking into the Visa within the first week of the month to have peace of mind that I've already made my payment."
Ashlie also has a Southland Checking Account and a Savings Account. She uses Southland Credit Union as her primary financial provider.
"I am looking forward to checking out the benefits I receive as a Member after my graduation," she said. "I think it will be helpful when purchasing my first car since there are Auto Loans available."
Southland also has Student Loans, Student Loan Refinance and educational resources to help students build savings.
With zero prepayment fees, lower rates and flexible repayment options, taking out a private Southland Student Loan is an option when scholarships, grants and federal aid can't cover costs.
If students already have multiple loans they need to pay off, there's always the Student Loan Refinance solution. With
competitive rates and flexible repayment options, refinancing through Southland may help streamline your loan payments into one and potentially lower your rate.
In addition, Southland Associates are always on hand to help you meet your savings goals with simple strategies and Southland Savings Account options.
As for advice for students who are looking to build credit or save money while in college, Ashlie says: "Make higher payments on your Visa balance whenever you can, make large purchases on your Visa when you know you have the money in your checking or savings
account and transfer that amount right after your purchase. Don't let your Visa balance remain high from month to month – try to pay it off at the end of each month."
If you are preparing to head off to the next stage of your life, give a Southland representative a call. We will be able to go over your financing options and help you with the tools you need to succeed.
Popular News
Featured News
Categories